New York Timeshares and Vacation Rentals and Resales
New York is teeming with attractions and vacations spots that are as diverse and exciting as the tourists who visit. Upstate New York is bristling with pristine nature from the Adirondacks and Niagara Falls, perfect for camping, skiing, and sightseeing. Looking for a summer or Spring Break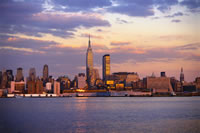 destination? Head further down and walk along the white sand beaches of Long Island and surf the Atlantic Ocean.
On the other end of the spectrum is New York City, a bustling metropolis filled to the brim with adventures waiting to be had in any season. The Statue of Liberty and the Empire State Building are top tourist destinations, while Broadway and Madison Square Garden offer entertainment year-round. Interested in picking up some mementos or winding down with some shopping? Whether you're looking for high end designer boutiques or quaint vintage shops and cafes, you'll have to buy another suitcase to bring home all the great finds from your vacation.
Culture, finance, art, shopping, New York has it all. Not sure where to start? Here are some tried and true vacation hotspots in New York: Long Island, Ellenville, Fire Island, New York, Hunter, Lake George, Lake Placid, North Creek, Stamford, Callicoon, Catskill, Chautauqua, and Clymer have timeshares in them.
New York
New York
New York
Stamford
Montauk
New York
Cortland
Hunter
Lake Placid
Ellenville
Hunter
Lake George
New York
Long Island
Chautauqua
Catskill
Fire Island
Clymer
Lake George
North Creek
Callicoon
New York
Lake Placid
New York